Hola!
I'm writing today from beautiful Narragansett, R.I where summer is in full swing, and we're wearing our teeniest summer clothing because it's 80 degrees! Let's chat about our personal style manifesto, shall we?
I'm always working on evolving my personal style. I recently did (another) enormous purge of my closet, resulting in 3 hefty garbage bags to send to ThredUp or to resell (I'm lazy with reselling lately; I have barely listed anything since March). One thing I have noticed as my fashion sense is evolving is the tendency to repeat outfits, and to gravitate towards the same patterns, prints, and silhouettes over and over again.
I've always been a big fan of white knit sweaters, stripes, black, and boxy t-shirts. Before I noticed that I had bought several versions of the same things, I knew liked these items, sure, but I tended to rotate through more random things in my closet more than I do now.
I'm not even kidding when I tell you I wear this Show Me Your Mumu jumpsuit like 3x a week. Since quarantine started, I've been favoring more jumpsuits and a flowier, more comfortable and loose fitting vibe than I did before the lockdown. I've stopped pretending I'm ever going to fit into the matching Victoria Beckham for Target set I bought years ago. I'm never going to become a pencil skirt person, and headbands that hurt behind my ears just aren't my thing. And, as much as I love high heels, I have lived in the mountains or near the ocean for the past 12 years. It's less likely than ever that I will wear these items as I move to yet ANOTHER beach town soon. (Wearing heels in a beach town is akin to wearing a bikini in the Arctic – you just don't do it).
Since quarantine, my items on repeat have been: jumpsuits, a Show Me Your Mumu tunic, my Rothy's, rainbow flip flops, Lululemon On the Fly pants, boxy t shirts, bralettes, a vintage striped Oscar De La Renta button up beach cover, and a Reformation Rou dress. I kid you not when I tell you I have worn those items for most of quarantine. Talk about making a weird situation positive; if there's any silver lining to working from home, it's the weeding out of outfits I don't wear, and finding which ones I wear all the time.
I was so lucky that all the items I mentioned above, I bought secondhand. The SMYM pieces were about $7 each, the Reformation dress I bought with The Real Real site credit, the Rothy's were 50% off due to a healthcare discount, and the Oscar De La Renta button up was a Salvation Army purchase in Newport, R.I. (go figure). It's amazing to me how much we gravitate to wearing the same items over and over. I have read the statistic (who knows if it's true), we wear 20% of our closet 80% of the time, and for me, this is DEFINITELY true!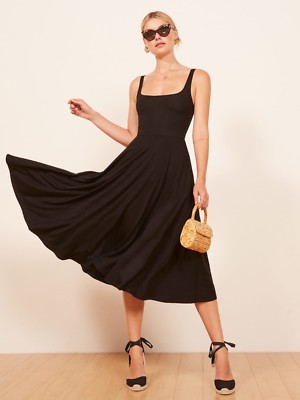 I said this on Instagram recently, but I loved reading The Curated Closet, a sort of introductory book to the idea of curating a closet that closely mimics your personal style while allowing for a minimalist view of fashion. Before reading this book, I felt so lost with how much stuff I was hoarding, due to finding cheap items at the thrift stores. Although I knew what I liked, I had so much stuff clogging up my closet that I wasn't actually wearing on the reg. For example, I had a bunch of old wedding guest dresses, a really cool pair of Zara heels that went with nothing in my closet, several too-small outfits which I'd had the goal of losing weight and fitting into for several years, and on and on. It was overwhelming to get dressed in the morning; I was weeding through piles of similar-looking t shirts and old dresses that no longer fit to find the same jumpsuit I've worn 30x. It was also frustrating to see what I wasn't wearing but was too afraid to toss.

As I chucked things onto my floor (shoes) and bed (clothes) to weed through, I began to notice some suspicious thoughts creep through. For example, several times I had the thoughts, 'I might wear this again', 'what if I fit into this again one day?', 'that was a really cool find at the thrift – I shouldn't get rid of it', and 'that was too expensive to throw away'. I know you've probably had similar thoughts when cleaning out ANY part of your home, and it can be a real challenge to tune those voices out. Once I was completely honest with myself and came to my senses, I realized that a lot of what I was holding onto was this idealistic of how I wanted my life to be (skinnier, more glamorous) rather than what it actually WAS – a WFH therapist and yoga instructor who lives in a laid, back beach town.
I kept at it, and felt so good once it was all sorted. I had SO MUCH STUFF to give away and it felt really prosperous that I was able to do so. I owned enough stuff to make some money off it, or give it away to someone who could really appreciate it. I was left with a collection of items which I ACTUALLY wear or will wear, come the other seasons. I was able to do away with two large storage bins which held shoes I never wear. The world is so f*cked up and crazy right now that it seems trivial to be focusing on your personal style in a time such as this. However, if something as simple as organizing your closet can bring you peace, isn't that contributing to the greater good, too? You'll be able to move through the world with a greater peace of mind, and maybe more patience, and that's pretty important!
At least, I think so.
Will I stop shopping? Absolutely not. I'm not super proud of the fact that shopping is one of my hobbies and a coping mechanism; it makes me feel so creative to have all these beautiful items to express myself in the world. The thriftiness of this next sentence makes me proud, but I returned a few Athleta things I'd been holding onto since before quarantine to purchase a sports bra and a boxy white tee. I'd been on the hunt for a sports bra that fits well for ages, so I was really happy to find this one. I also indulged in an awesome boxy t shirt – the fit is amazing and I love how thick the fabric is.
Lululemon was up next. I had a gift card left over from my 30th birthday, and I wanted a pair of cropped leggings as I have 3 full length pairs which are less comfortable to workout outside in in the hot summer months. After reading a ton of reviews, I bought these Pace Rival leggings on sale, plus 25% off for my ambassador discount, and 8% cash back from Rakuten. Finally, I bought some Stella McCartney x Adidas workout sneakers using ThredUp funds I had, after sifting through 100s of reviews about the best running shoes. I have worn the same Saucony's for over 4 years now, and it was time for a change. I've bought several pairs trying to replace them throughout the years, but none could hold water to the quality of the Saucony's. Lets hope these live up to the hype.

All in all, I paid $1.28 out of pocket for the items mentioned above – not too shabby!
The difference with the items purchased above and the ones I'd gotten rid of was that these items actually suited my lifestyle. I wear leggings and sports bras the most, I workout often and thus need good shoes to run in, and I love boxy white t shirts. Even though I've been in a few stores since my closet cleanout, I find myself asking myself more and more, 'does this fit with what I already have? Does it suit the lifestyle I lead NOW, not the one I envision I have?'. Thankfully, asking this in the checkout line has saved me some money already.
If you want to figure out how to define your personal style, write down some of the activities you do most often, and what you wear when you do them. Figure out what colors, shapes and fabrics you tend to avoid, and weed out items that match that description out first. You'll be able to see what you like by what is left. If you have 10 pairs of black leggings, chose your favorite 3 and go from there (example: dressier [Spanx pleather], workout [Lululemon Wunder Under High Rise], and casual with tunics [Zella Live-In High Waisted]). Now, choose your most worn items, and items you haven't worn in over a year. From there, you can keep, toss or donate the items left, and decide why you've been holding onto those items for over a year.
Are there happy memories associated with them? Did your mom make it for you? Try to let go of the sentimentality behind the item, and be honest with yourself about if it actually fits in with your lifestyle. When it's time to say goodbye, you can do so lovingly and just remember, your goal is to have a simpler and easier time getting dressed. These items clog up space for new energy to flow into your life, not to mention clogging up space in your closet! If it inspires you, look at lists like 'items every woman should own', but only if they're relevant to you. For me, I don't need to own a trench coat because when I did, I never wore it. Any item that you choose to keep should make you feel good, look good, fit with the rest of your wardrobe, and be something you know you'll wear. That's it – pretty simple, when it comes down to it!
What words would you use to describe your personal style?