Hello, Hello!
I am back again, after a hiatus. Quarantine has kicked my ass. I turned 30, graduated with my Master's in Clinical Holistic Mental Health Counseling, got a new job as a Therapist, and got engaged! I'm so lucky and thankful for everything that's happened during quarantine, but this is a sad time where I can't really celebrate the way I'd like, and the news in the world right now can be a little tough.
Yes, I'm a therapist, but I will definitely admit one of my unhealthier coping mechanisms is SHOPPING. I love styling outfits, selecting new items for my closet, and admiring outfits I find in old movies, on social media, and in magazines. During quarantine, I shopped more than I should have. I plan to do reviews on many of the items I purchased, which were things I'd had my eye on for a while and some more, let's say, "impulsive" purchases. Rothy's, Madewell canvas wide leg cropped pants, Lululemon On the Fly 7/8 pants, a giant kimono from Free People, Zara patent leather crocodile Doc Martens look-a-like boots, and some other items.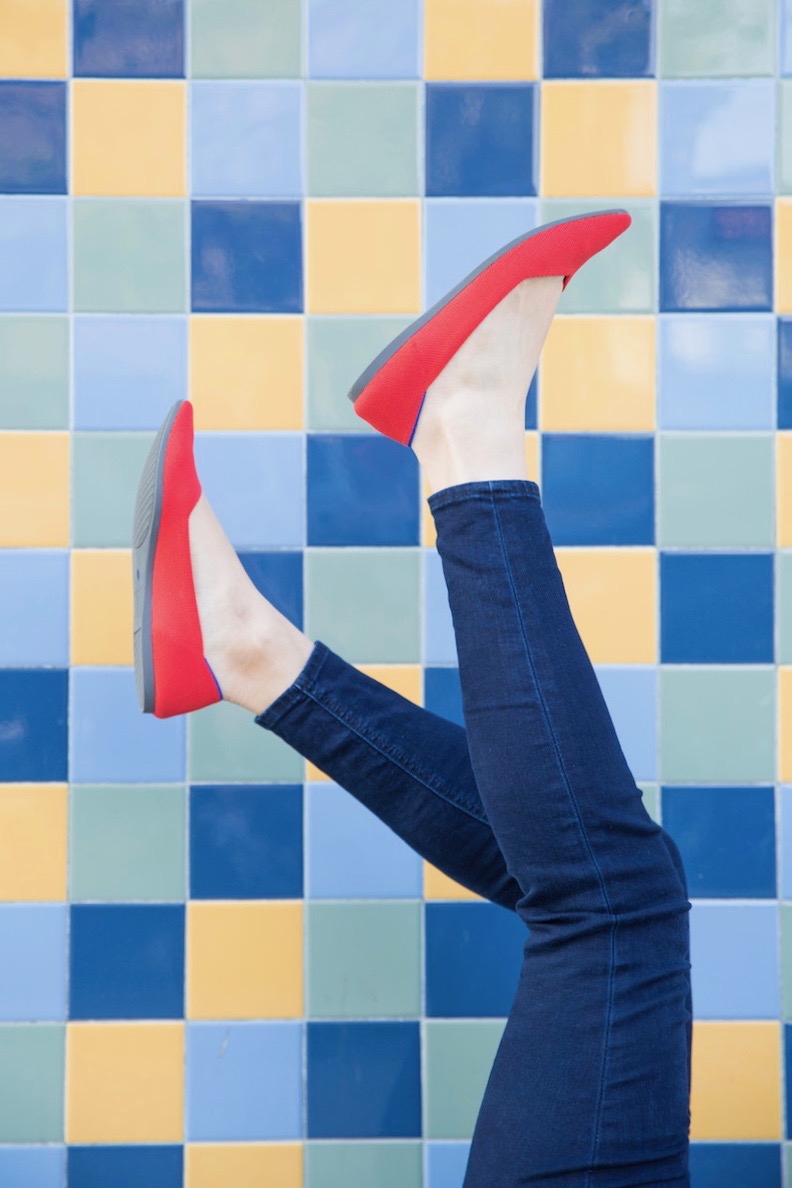 I used a discount code (50% off if you're a healthcare worker) for my first pair. I knew I wanted the Point style, because I'd seen them in person on two different friends and they went with every outfit. Anyone I know who has Rothy's totally raves about them. If you're not familiar with the brand, they're a California-based company that makes shoes out of recycled materials, in this case, water bottles. Rothy's are cited as the most comfortable flats of all time, by many people, and my friends agreed.
I have pretty wide feet, so I was concerned about sizing. I trolled several Reddit threads about the subject, and most people recommended to size .5-1 full size up. I sized up a 1/2 size in the Flame color. I was hesitant on which color to choose – I have one friend who has plain Black (seen on Ms. Markle, above), and another who has a bright yellow. Since I already have black leather flats, and a fun leopard pair, I figured it would be a good addition to the closet to choose a pop of color.
Rothy's are expensive – even with the discount, my shoes cost $70. They're normally $145, which seems outrageous, and I wouldn't have bought them had I not had the half off code. Although I mostly buy everything pre-owned, I bought these new, for two reasons. One, I had the 50% off code, and two, surprisingly there are many Rothy's fakes out there! I'd check it out via Google if you want to buy a pair pre-owned; sometimes, the insoles (which are removable) have poor stitching of the logo, or the size tags which are under the insoles are crooked. Buyer, beware.
It was exciting when my Rothy's came, but due to COVID-19, they took ages to come, almost 2 months. Once they came, I was SUPER disappointed that the 8.5 I had ordered (I'm normally an 8) were too small. Weirdly, the reviews on different colors said that certain colors fit differently than others. Apparently the black Rothy's fit really small as compared to some of the other colors. After consulting with the Rothy's die-hards on Instagram (highly recommend checking this out; people are obsessed), I returned them, and ordered a size 9, a full size up.
Thankfully, this next pair fit great! I was dubious of how comfortable they'd actually be, since obviously trying on the first pair was uncomfortable, but they were super comfortable from the get-go. It was interesting; I found a way to wear them with almost every outfit I tried them on with. It was really hard to choose a color, but this Flame color really goes with everything.
I will say that these are now my most worn flats and the most comfortable pair I own. I purchased an unbelievable amount of shoes in quarantine, but these were a great buy. I'm still working from home, so it's not exactly like I'm going anywhere, but they're so cozy I feel like I'm wearing slippers. Also, the fabric forms to your feet after a couple of wears, and you can wash them (don't dry them). I haven't washed them yet, but once I do, I know not to dry them! I'll review some of my other buys, too, soon! For now, I'm planning the outfits I can wear with these babies once I can go places again.
What have you purchased during quarantine?