Self-care is a phrase that has been thrown around so much lately, but what does it actually mean? Surprisingly, it's not all bubbles baths and massages – sometimes, it's really hard things, like saying no to things you want to do, and yes to things like budgeting and meal prepping.
For me, I focus on my mental health and make it a priority because I have to to stay sane while in graduate school. Also, I like to, and I want to, for my own well-being.
For one, it makes everyday a lot more beautiful and easy to manage for me. Secondly, many graduate students report burnout, and I don't want to be there! Of course, I'm not sure if I'll ever NOT avoid a touch of the burnout, but I know I CAN be proactive and try to do what I can.
Some of my favorite self-care acts look like…
1 // DEVELOPING A MORNING ROUTINE \\
I will admit, I have been inconsistent and terrible at this since I went to Florida a month ago, and it shows. I can't get up in the mornings, and am sluggish by the afternoons. Although my moods remain high, I can't stop wishing I'd gotten up and worked out in the morning like I used to. Also, I have paid for the YMCA the past two months and gone about 2 times!
In general, my morning routine looks like this:
-make coffee
-meditate
-bullet journal, and a general life journal, featuring a gratitude list
-light candles
-read
-put on the essential oil diffuser
-workout at the gym for 45 minutes (HIIT workout)
-shower and go to work
Can you imagine how great I felt for my day when I squeezed most or all of that into my mornings? I got up at 5:45, and was in the shower at the gym by 7:45am, on the road to work for 8am. I'm so lucky I get to do some of this, especially because I don't have kids and my gym is about 3 minutes from my house.
Lately, it's been mainly coffee, candles, and reading, but I have really struggled with the workload this semester and balancing all of these habits plus work, school, and relationships.
2 // DEVELOPING A NIGHTTIME ROUTINE \\
Similarly, developing a consistent nighttime routine can make a whole lotta difference when incorporating a morning routine.
Mine (used to/sometimes) looks like:
-eat dinner, clean up
-pack my lunch
-pick out work outfits, pack it in gym bag with new towel
-lay out my workout clothes
-hang out with Alex, my boyfriend
-get into bed by 9:30pm (unless I have class [3 nights a week], then it's more like 10pm)
-read for maybe 20 minutes
-go to sleep by 10:30pm or 10pm
3 // LISTEN TO MUSIC OR PODCASTS \\
Because I drive so much, this is pretty important to me, and why I pay for Spotify. I also generally encourage people to listen to what they love, and not try to force themselves into listening to educational podcasts unless they want to. For me, it's all about the true crime podcasts, like Dr. Death, Dirty John, or Crimetown, all of which I binged, or inspirational podcasts, like Super Soul Conversations with Oprah.
I also check out inspiring or pump up music when I need it. I generally only listen to workout-type, pump up music in the gym. When I don't workout, I miss it.
4 // BUDGET \\

This is undoubtedly one of my favorite ones on this list, and the one that's changed my life the most.
When I was younger, in my earlier 20s, I was a total mess when it came to finances. I didn't have a home where we communicated about money, and I wasn't sure where to start when I began making my own. I knew to max out my retirement and that I SHOULD be saving, but I also thought it was a good idea to buy a $20,000 car when I had over $100,000 in debt. I didn't even know how much debt I was in from my school loans until I was 4 years out of college, that's how oblivious I was.
Anyway, now I know much better. Most of my "aha" moment was because of my best friend, Jeanna Infantino. She's inspired me since we started our friendship, 15 years ago, with her work ethic and ability to remain calm in all situations, which comes in handy when your best friend is a lunatic like I was in my high school and early college years. She wrote this book, which I can't recommend enough, about paying off a huge amount of debt in only 3 years, thanks to Dave Ramsey. Well, I read it, and I've never looked back.
I update my EveryDollar account every single month, without fail, and I actually look forward to it! If I went over a certain category or over my whole budget for the month, I do a lotttt of Poshmark hustling at the end of the month to make up for it. (Which I am doing right now, BTW, I had too much of a "treat yo'self attitude" this month and shopped to soothe my stress levels".)
This mentality is what drives me to work all these part-time, side hustles, to pay for graduate school in cash! I mean, what's better than knowing where your money's going?
5 // MEAL PREPPING \\
Ugh, writing this list is making me sad, because finals week, aka I've fallen off the wagon, but I used to be really good at this! Making lots of healthy food and keeping it in the fridge was the key to packing my lunches the night before, and making it through the long days of work and school.
I'd schedule maybe 3-4 hours on a Sunday (throw loads of laundry in while things are cooking), and plan out recipes before you shop. Shopping at Trader Joe's and Aldi's has saved me a lot while doing this, and I can still eat gluten-free, pretty organic, and grass-fed. Also, this saves you money, as you're less likely to eat out.
Pre-set your coffee for the next morning before you go to bed for bonus points.
6 // MEDITATION \\

Meditation, like yoga, is one of those things you want to do and don't think you can, then you do it, and wonder how you've lived without it. When I get into a super consistent meditation routine, I am in the best shape of my life, my mind's calm, I'm more organized, and less snappy to people.
Insight Timer is my favorite app to do this with, and until I get good, I pretty much only use the guided meditations on there. Start with 5 minutes a morning, and build up by 1-2 minutes a week, until you're at a level you feel comfortable with. Mine's usually 20-30 minutes a day for me to feel the best results of my practice.
6 // YOGA \\
If you read my thrifty tips that keep me fit post, then you know I am a yoga instructor, which means I get "free" yoga classes for teaching at my studio. I also spend $9/month for ClassPass, which means I get 5-6 hot yoga classes a month, at my favorite studio. This is a great practice for maintaining stress and anxiety levels while in school, and helps you to focus the mind, too.
7 // EXERCISE \\
Yoga, Pilates, barre, Ballet Beautiful, HIIT, BBG – do what works for you, but DO something. It's proven that exercise combats depression and boosts endorphins
(or "happy" chemicals) in the brain, which is pivotal in maintaining ALL aspects of your health.
8 // TIME IN NATURE \\
I am definitely guilty of not spending enough time outside, I'll admit. My boyfriend is very good at making me stop what I am doing, and going for a hike or a walk on the beach. I always feel 100% better about whatever I was stressing on when I come back. Even if it's only 10 minutes a day, it works.
9 // FAMILY & FRIENDS \\
Make time to see and stay in contact your family and friends. You'll regret it if you don't. On that same vein, notice who keeps in contact with you ; you have no responsibility to stay in touch with anyone you've grown out of.
10 // JOURNALING \\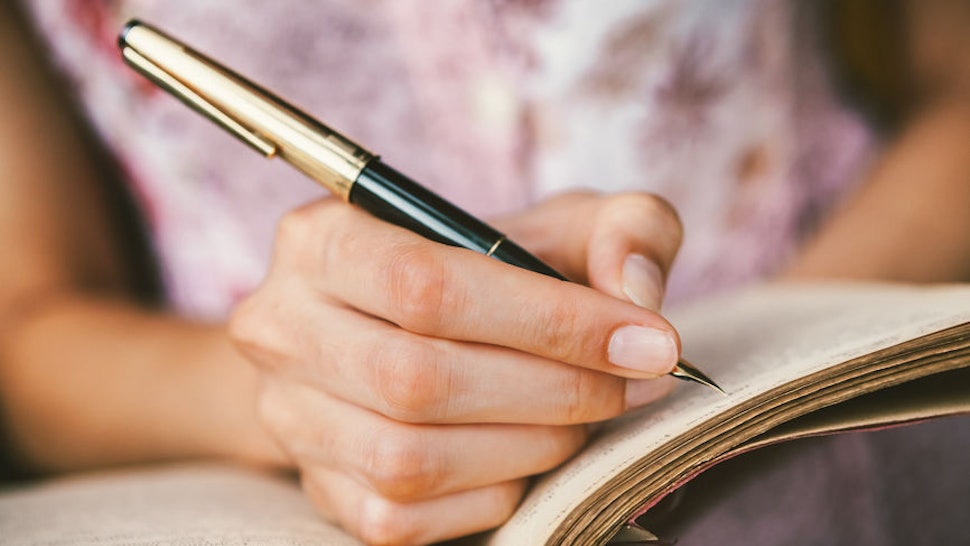 I notice this helps me a lot; I track what books I've read, habits, finances and movies/ t.v. shows I've seen in a bullet journal, and gratitude lists and general life happenings in another journal. Add it in to your morning routine, or start writing before bed.
11 // LIBRARY BOOKS \\
I LOVE my local library. We rent movies and I routinely check out about 15 books a month, and even get all the bestsellers. Reading takes me out of my life for a minute, and removes me from the minutia that is reading for graduate school.
12 // BINGE NETFLIX \\
…or Hulu, or HBO, or movies. It helps with distracting your brain. If you have a weekly show you watch with friends or significant others (Westworld!), it can also encompass the "keep in touch with friends" advice I listed above.
13 // SLEEP \\

I have never pulled an all-nighter in my life, ever, and have no plans to while in school. I have no idea why people do this. Plan your life around your sleep, not the other way around. If you know you have a giant presentation Wednesday, do not stay up all night on Tuesday to do it – plan ahead.
14 // SIMPLIFY \\
For me, this looks like: presetting my coffee the night before, budgeting, keeping a grocery list, saying 'no' to commitments which will remove me from my priorities, MAKING my priorities known to those around me, meal prepping, and organizing my schedule, including fitness. What does simplify look like to you? Oh, and Marie Kondo'ing, always.
15 // TRAVEL \\
I always have money saved for travel, no matter what. It's imperative for me to get away once in a while. I can still pay my bills, and work, and go to school, even when saving a couple hundred bucks a month. If you wanted to, you could save it, too. What are you spending money on? Feeding the birds? Develop a side hustle, or just make a vision board with pretty pictures of places you want to go. If you're more of a stay-cation kinda person, make sure it's in your town, but not your house. If you're in your house, you are 100% likely to start doing chores instead of relaxing – trust me.
17 // BE KIND \\
To yourself, to others, to fellow students, to your partner, to everyone. Yes, being in graduate school is tough, but it is also a privilege. This means you've been through a four-year university, which is a right denied to many. It means that you've been accepted into a program, which many people don't. It means you have some sort of support, whether it's emotional, familial or financial, which allows you to go to school. So, see it for what it is, and be grateful for those around you who help you out. Like my boyfriend, Alexander- I literally could not be where I am without his love and support.
Final tip: do your fucking work, and keep your eye on the prize!
What are your most helpful tips for maintaining your sanity in graduate school?